Huntica allows you to reduce recruiting time by up to 70% thanks to AI interviews.
Huntica will conduct interviews for you
Choose out of 500+ pre-prepared questions or add your own. For example: 
Huntica will conduct interviews for you
Choose out of 500+ pre-prepared questions or add your own. For example:
Create your interview questions and choose one of our virtual recruiters. We have developed more than a hundred interview scenarios for various professions. It's an easy-to-use tool which will help you to quickly choose the questions that fit your position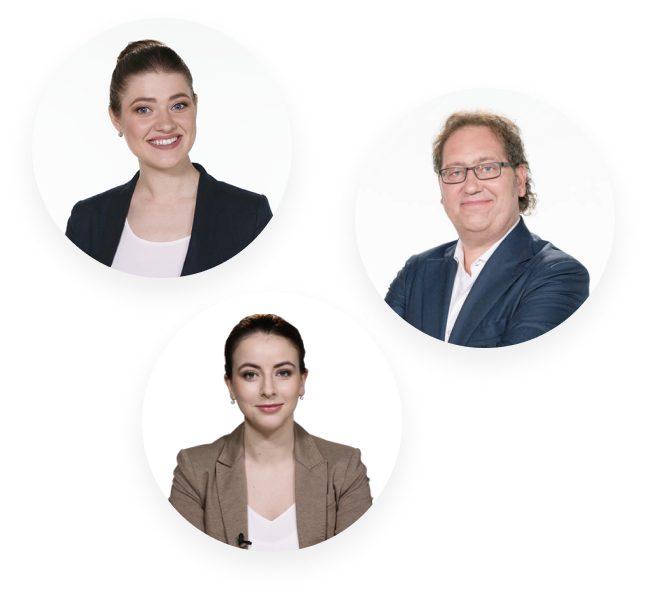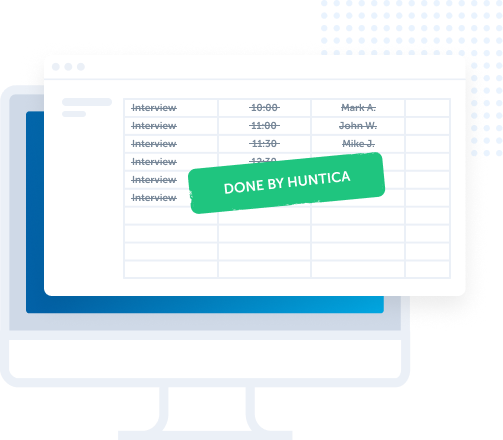 Free up your calendar. Do only important tasks
No need to plan an interview in advance any more – candidates will record the first interview; you will only need to evaluate it when it is convenient for you. 
If you like a candidate, you can forward the recording to your colleagues with just one click.
Conveniently organize your workflow with applicants
Change candidate statuses by dragging and dropping cards on the bulletin board. Filters, sorting, search – working with candidates has never been more convenient!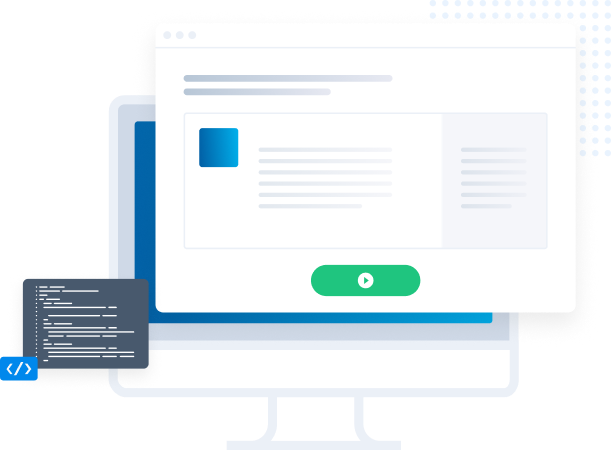 Integrate Huntica with your website
Teach your website to conduct a video interview!
By integrating our code, a "Interview for a position" button will be displayed on your site that applicants can use to record an interview. Technically, this is just as easy as adding analytics to the website.
Candidate
Evaluation from AI
A unique function on Huntica is the ability to evaluate a candidate using AI.
The evaluation will allow an employer to choose the appropriate candidate in the shortest possible time.
You can look over the transcript of the interview from AI and gain access to a short summary of the interview.
Thanks to this function you no longer need to spend a lot of time choosing the appropriate candidate. You can quickly form the correct opinion about each candidate with clear consideration of all of their pluses and minuses.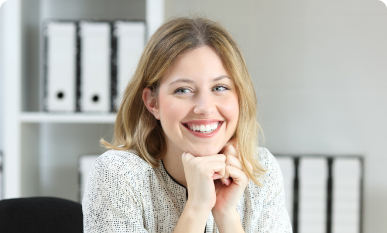 Eugeniya
The candidate demonstrates an excellent level of understanding of tasks and responsibilities. They passed the interview successfully, explaining in detail their experience and skills. Their role in previous workplaces fits with the range of duties that are required for this vacancy, which suggests that they are a good fit for this position. However, their answer to the question about concrete situations requiring communication skills was a bit vague.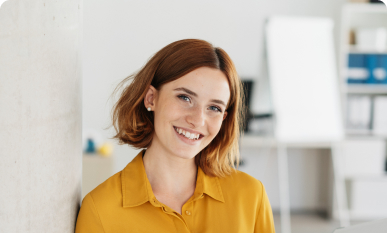 Tatyana
The candidate described their experience and duties in previous roles well, providing concrete examples of projects and scenarios which are required for the position in question. They gave details about their role in resolving a conflict at a previous place of employment, which demonstrated their professionalism. Based on this interview, it is worth devoting extra attention to this candidate.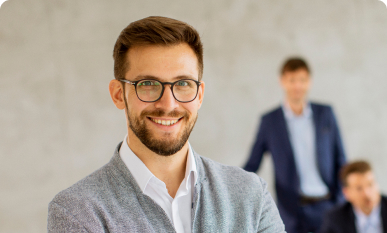 Jaroslav
The candidate demonstrates a wide experience in driving many different car makes and models. Their answers were concrete and positive, which shows the candidate's professionalism and responsible attitude towards work. However, the candidate did not fully answer questions about their criteria for choosing employment or their views about following the rules of the road. In general, the candidate is a good fit for this role, but in future interviews it would be a good idea to ask a few clarifying questions.
How much does the service cost?
What is the advantage of remote interviews?
What is Huntica best for?
Is it difficult to integrate Huntica into the recruitment process?
Can I pay for your services with a card or by cash transfer?
How much does the service cost?
You can view the service prices in the "Plans" section.
The "Promo" plan is best for trying out the service and finding out if the online interviews fit into your recruitment process. Some features of paid plans are unavailable in the "Promo" plan (for example, SMS notifications).
The "Small business" plan is best for small companies.
"Standard" and "Extended" plans are full-featured plans for large companies and HR agencies. Paying by cash transfer is available. It provides access to all service options that are not included in cheaper plans.
The "Unlimited" plan is best for large-scale recruitment (for example, selecting for internship programs).
What is the advantage of remote interviews?
What is Huntica best for?
Is it difficult to integrate Huntica into the recruitment process?
Can I pay for your services with a card or by cash transfer?
What people are saying about Huntica
Huntica's QR codes made our recruiting much more effective. We printed them on our pastry bags when we opened our second bakery. The result was way beyond our expectations — we received over 50 applicants for each position with the help of our loyal customers and their friends. All we had to do was watch all the interviews and make decisions. We finished onboarding the new employees a week later. We saved a lot of time and effort thanks to this wonderful service.
We found a valuable recruitment tool when we searched for summer interns with QR codes from Huntica. Instead of handing out our usual application form to students, we posted a QR code generated by Huntica on university notice boards on campus. Hundreds of applications turned into virtual interviews, ready to be assessed by our recruiters. Huntica saved us a lot of work and made the entire process smooth and effective.
When we had an urgent opening for a top position, we found a great solution from Huntica. They gave us the opportunity to place a QR code on billboards around the city, linking potential employees to an online interview page. It helped to engage with an enthusiastic audience of people looking for work. We had more than 80 interviews recorded in a couple of days. That allowed our HR to put all its efforts into selecting the best candidates for the final interview. The project was completed on time, and we're very happy with our new team member.
Our company is growing and we are always looking for great professionals to strengthen our team. We organized a meet-up for UX designers and added a QR code from Huntica to the event's brochure and posters. 8% of the participants used the QR code to record an interview on the Huntica platform. The best part is that they were able to complete most of the process on their own without a single appointment. The service helped us to filter out the best candidates and have them come in for a live interview with the team. This way, we managed to hire a new UX department for experimental projects with the least effort possible.
Our vehicles hire people for us! Putting a QR code on our delivery cars has been a huge advantage for effective recruitment in the transportation field. We target our future drivers where they are more likely to be: on the road. They scan a QR code with their smartphones and follow directions to record a virtual interview. It saves our HR managers lots of work and leaves them only the most interesting part — evaluation and selection of candidates.
Our restaurant always has a few openings. To fill them, we use stickers with a QR code from Huntica. The code links those interested in the job with an online interview page that has a fully automated interview. Since we put stickers on every table and door in the restaurant, our new hires now tend to be fans of our food and service.
As a local transportation provider, we mainly rely on word of mouth for hiring. It gets us drivers who live close to our routes and hear positive reviews from other commuters who they know. Recently, we added a QR code from Huntica to all our tickets and we now receive twice as many applications as before — all of them with a virtual interview so we don't have to spend a lot of effort and resources. This service has increased the value of our printed materials and allowed us to recruit while providing our usual services.